Dynamics 365 Commerce
Empower your business to create exceptional, insightful shopping experiences for every customer with Dynamics 365 Commerce—built on our proven Dynamics 365 Retail solution.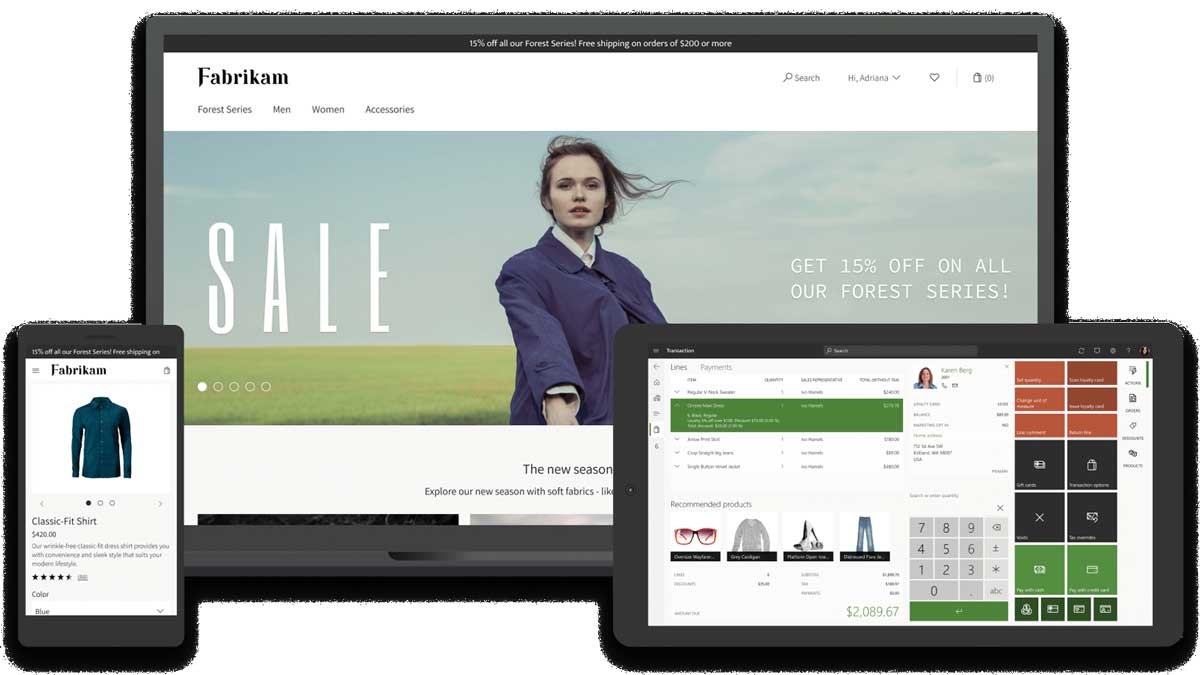 Commerce delivers a complete omni-channel solution that unifies back-office, in-store, and digital experiences to personalize customer engagement, increase employee productivity, optimize operations, and deliver better business outcomes. Existing Dynamics 365 Retail customers will be able to update to Commerce once it becomes generally available.
Everything to build and run digital commerce

---
Streamline your business with an end-to-end commerce solution that scales to your needs across traditional and emerging channels. Built-in web authoring and development tools enable you to create engaging and intelligent digital storefronts, while a connected marketing and commerce platform enables seamless management of content, assets, promotions, inventory, and pricing across channels.
Build loyalty and exceed customer expectations

---
Use clienteling tools to gain a comprehensive view of your customer and respond to their needs at every level of engagement, based on customer profile, history, and preferences that flow across physical and digital channels. Empower your employees to foster lasting relationships through intelligent recommendations, insights, and loyalty programs.
Flexible and intelligent omni-channel experience

---
Deliver frictionless and consistent yet unique engagement across online and offline channels—allowing customers to purchase when, how, and where they want, on any device—while providing choice around modern payment methods and product collection or delivery.
Streamline operations using cloud intelligence
Drive personalized, friction-free commerce experiences and integrated, optimized back-office operations through ingrained and pervasive cloud intelligence technology. Use advanced merchandising, inventory management, and pricing and promotion to innovate; adapt to changing business needs; and improve quality of service and customer satisfaction.
Give your business what it needs to succeed
Microsoft Dynamics 365
---