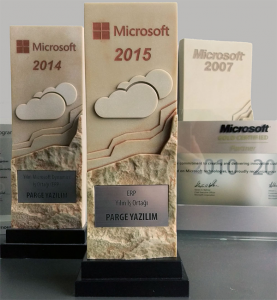 In the business partner of the year award ceremony held by Microsoft annually, Pargesoft was elected as the business partner of the year in the field of ERP. In Microsoft Business Partner of the Year held by Microsoft Turkey, our company was selected as
the Business Partner of 2015
 in the branch of 
Microsoft Dynamics Partner of the Year (ERP)
. Receiving the same award in 2014, our company shows its success also in international field.
Thanks to quality services, customer satisfaction, rapidly increasing success graph and increase in growth rate, our company achieved in entering the 5% slice among the most successful business partners as a result of evaluations among business partners around the world by Microsoft during the last two years. Our company was entitled to receive these awards with successful business models that are applied in installations and support for software such as Dynamics AX that is oriented towards sectors of production, retail and so, Dynamics NAV oriented towards companies in trade and service provision and Dynamics CRM towards management and tracking of customer relationships as the basic needs of all these companies.
Focusing on quality and customer satisfaction in service provision, Pargesoft also carries out its studies in development of Microsoft Dynamics AX and NAV ERP software. Finally, having completed localization studies for Microsoft Dynamics NAV 2016 product and optimized towards local regulations, Pargesoft continues to develop solutions for Microsoft ERP and CRM applications.
About Pargesoft
Founded by the team that conducted Turkish localization activities of Microsoft Dynamics NAV Enterprise Resource Planning Software in 2002, PargeSoft offers services in ERP application development and consultancy services. Average sector experience of its personnel exceeds 10 years in after-sales services and the company mainly focuses on after-sales services and training in staff employment.
Implementing successful projects with global companies such as Total, GFK, Do&Co,G4S, Honda Trading, IKEA, MCT, Adecco, BodyCote, TEB Arval, Nunhems, Houghton Kimya, Renault Trucks, Simge Antalis, Intermil and Sumitomo, PargeSoft is Solution Partner for Microsoft Dynamics NAV and Microsoft Dynamics AX ERP software.
Ranked in the 366th place among the First 500 Informatics Companies in 2011, the company registered its successful business graph in the field of ERP.
Microsoft President Club for Dynamics award, which is presented to its partners that are included in the 5% slice with high performance among business partners around the world, was given to Pargesoft in 2014 and 2015 due to its continuous customer satisfaction, innovative business solutions, increasing sales performance and sustainable business models.
Besides, our company was chosen as the business partner of the year in the branch of Microsoft Dynamics Business Partner (ERP) in 2014 and 2015 with its performance in sales, growth, solution development and customer satisfaction.